Natural Gravitational Anomaly Want to see water flow uphill?
Visit the Natural Gravitational Anomaly here at Mystery Hill!
Experience North Carolina's Natural Gravitational Anomaly
Discovered in the 1920s in the Historic Hudson Apple Orchards the only known gravitational anomaly in the state has been amazing visitors from around the world since it was opened to the public in 1948. On a fun and educational guided tour, your family will learn the history of the discovery of this natural wonder and get to try their hand with many demonstrations of how gravity behaves differently in this one section of the historic orchards. Tours start several times an hour and guests get time to explore and experiment on their own after the tour.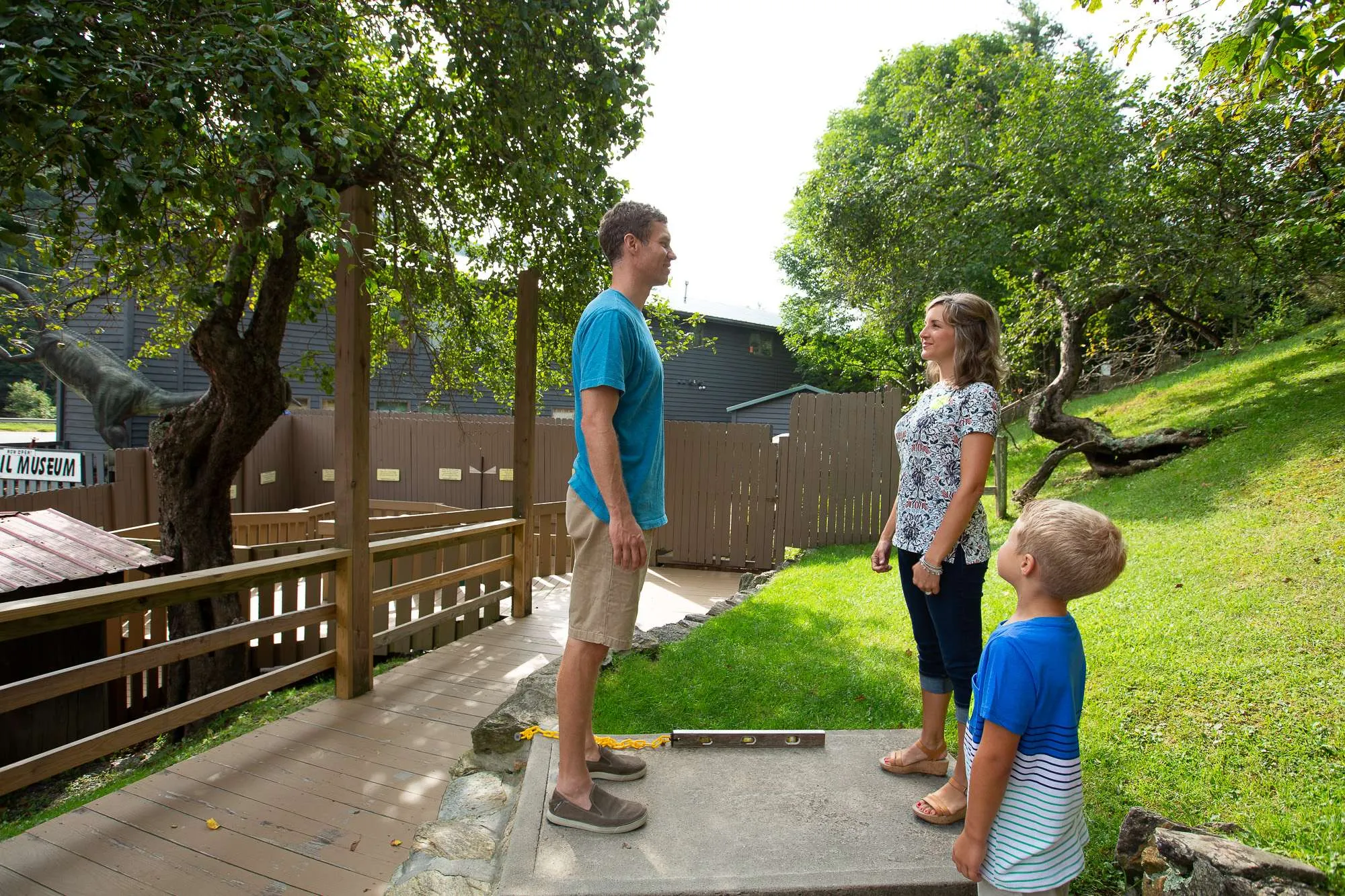 The Old Cider Mill Platform
On one of the many cider mill platforms the Hudson's used to produce their famous Hudson Apple Cider, Mr. Hudson made a discovery that is still amazing visitors today nearly 100 years later. These platforms originally built out of wood were constructed as level as possible so that the two-man cider presses the Hudson's preferred would drain correctly when operated on the platforms. One day, Mr. Hudson took a break from pressing had a seat on a rock wall nearby and let two boys who had worked for him for years take over the cider making. While watching the boys operate the press, Mr. Hudson noticed that one of the boys was about 6 inches taller than his identical twin brother on the other end of the press. The Hudson's had known these boys most of their lives, and Mr. Hudson knew they were the same height, so he assumed that his platform had somehow become out of level and proceeded to get his tools to repair it. Mr. Hudson's check of the platform perplexed him as it was still perfectly level. He then decided that one of the brothers must have had a growth spurt, so he asks them to stand back to back on the ground, but that also perplexed him because they were still exactly the same height. After some experimentation, it was determined that you did not need to be twin brothers or even exactly the same height for this crazy visual phenomenon to happen any two people standing on the level platform appeared taller on the North end than they did on the South end of the platform.
One of the most photographed attractions in the area there are visitors who have photos of their kids on the platform every year for generations.